La pianista Robin Spielberg alcanza los primeros puestos en la lista Billboard con su nuevo y relajante álbum.
Robin Spielberg publica el 2 de marzo su nuevo álbum, «On the Edge of a Dream», según anuncia en una nota de prensa la pianista norteamericana, que no lanzaba material nuevo desde Abril de 2015.
Grabado en North Sutton, New Hampshire, el que será su decimoquinto álbum ha sido producido por la misma Robin Spielberg y masterizado por Gerry Putnam.
«On the Edge of a Dream», alcanza la #6 posición en Billboard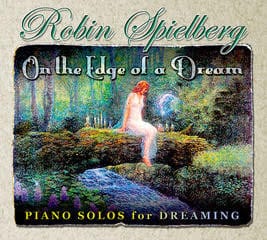 Catorce son los cortes que integrarán este nuevo trabajo, los cuales llevan por título: On the Edge of a Dream, We Meet Again, Drifting, Spellbound, Nightfall, The Secret Path, Stargazing, Calling All Dreamers, Illusion, Into the Night, Safe and Sound, Meeting Monet, We Meet Again (Recurring Dream) y Blue Moon Rising.
Autora de varios álbumes de éxito como Dreaming of Summer o Sea to Shining Sea, Spielberg ha logrado alcanzar la mejor posición en la lista Billboard (New Age Albums) con «On the Edge of a Dream», alcanzando la #6 posición en el chart; todo un mérito para un álbum de solos de piano.
«On the Edge of a Dream» cubre una placentera y dulce hora con improvisaciones grabadas frente a un piano Steinway & Sons de 1898, lo que hace de este nuevo álbum, un asistente más que perfecto para momentos de relajación, contemplación, meditación o la realización de ejercicios de Yoga.
Robin Spielberg es una de las compositoras/pianistas más queridas de América. Con una programación de tours impresionante y cientos de miles de discos vendidos, esta artista oficial Steinway & Sons se ha ganado los corazones de los oyentes de todo el mundo, gracias a sus convincentes melodías y a su sensible técnica al piano desde que debutó con su primera grabación de solos de piano Heal of the Hand.
«On the Edge of a Dream» ya está disponible en todas las plataformas digitales, tales como: iTunes, CDBaby, Amazon o Spotify.